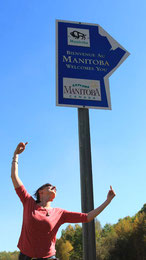 *english version below*
Manitoba ist hübsch und abwechslungsreich genug und wir hatten das Gefühl genug Strecke gemacht zu haben, um hier mal einen Gang runter zu schalten und uns ein wenig zu verweilen.
Im beschaulichen Arborg gab es eine hübsche, günstige Bäckerei und eine Dusche, so dass wir gestärkt und frisch gestriegelt in den Hecla/Grindstone Provincial Park aufbrechen konnten. Nach all dem Gefahre und Gesitze im Auto gab es nun mal einen Spaziergang durch die alte isländische Siedlung Hecla und eine Strandwanderung zum Leuchtturm auf einer Landzunge des Lake Winnipeg. Uns umgibt hier maritimes, nordisches Flair.
Die Nacht verbringen wir am Strand des benachbarten Grindstone Park, wo sich einzig und allein einige Wildgänse über unseren Besuch echauffieren.


Bevor es in die Hauptstadt Winnipeg geht, halten wir in Gimli. Der Sitz der Götter, ist heute eher der Sitz der Sonnenanbeter und Badeurlauber, ein typischer Badeort. Jetzt in der Nachsaison ist er aber alles andere als überlaufen, was uns natürlich besser gefällt.

Winnipeg begrüßt uns mit Traumwetter und knapp 30 Grad. Letzteres ist um so praktischer da meine beiden Jeans dringend gewaschen werden müssen und ich den Tag wider Erwarten im Rock durch die Stadt spazieren kann, während der Laundromat unsere Sachen wäscht. Wir bummeln durch die Forks Märkte, Osbourne Village und den alten Exchange District.
Dann geht es langsam aber sicher Richtung Ontario.

+++

Manitoba is beautyful and diverse enough and we've got the feeling we covered enough ground to slow down a bit and enjoy ourselfs for a while here.

Nice little Arborg has a lovely and cheap bakery and showers. Fed and nice and clean as we are, we go to Hecla/Grindstone Provincial Park. After long days of driving and sittint in the car, it's a pleasure to stroll through the old islandic village of Hecla and the do a beachwalk to the lighthouse.
We spend the night at the neighboured Grindstone Park, where we had to share the beach with a few geese, who were a bit complaining about us being there.

Before we went to the capital Winnipeg, we stopped at Gimli. The home of the gods seems to be home to beach tourists nowadays. It's just a typical beach town. As we are travelling in the off season meanwhile it was not crowded any more which we enjoyed.

Winnipeg welcomed us with the most awesome weather and close to 30 degrees. That was even more convenient, since I had to wash both of my jeans. So I could spend the day strolling through town in a skirt while the laundromat was doing its job. We visited the Forks Markets, Osbourne Village and the Exchange District.
After that we are slowly heading towards Ontario.