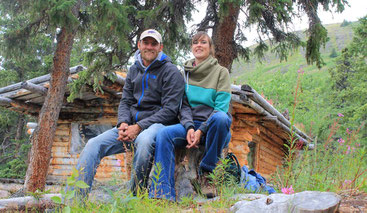 *English version below*
Ich glaube wir haben es Jack London und Nicolas Vanier zu verdanken, dass wir im Yukon sind, bzw. Nico's Liebe zu deren Büchern, Abenteuern und Filmen. Um so aufgeregter war Nico, als er erfuhr, dass "Der letzte Trapper" gleich um die Ecke gedreht worden ist und man die Blockhütte finden kann, wenn man halbwegs weiß, wo sie ist -
Das war also unsere Herausforderung für unseren freien Tag gestern.
In der Rambostadt Hope gab es die komplette Rambo-Tour in der Touristenbroschüre. (Zugegeben, Rambo ist ja auch "ein klein wenig" populärer als "Der letzte Trapper") Hier hatten wir also nur eine alte Karte, ein paar Hinweise und liehen uns ein Kanu, da die Hütte vom Wasser aus noch am ehesten auszumachen sei. Bei Gegenwind und Wellen paddelten wir ca. 2,5 Stunden entlang des Westufers und vorbei an ewigen Zedern und Pappeln, bis wir auf die Pappeln am Hang stießen, die zur Beschreibung passten. Von da aus ging unsere Entdeckungsreise landeinwärts durch den kanadischen Busch -keine Angst liebe Muttis, wir hatten Bärenspray dabei- bis wir auf der Anhöhe tatsächlich die Blockhütte des letzten Trappers fanden!

Die Lage ist traumhaft über dem zwischen Bergen eingebetteten See. Vor der eigentlichen Cabin befinden sich einige Blockhundehütten und eine Feuerstelle. Die Inneneinrichtung ist noch gut intakt und bot viele hübsche Details sowie einen windgeschützten Platz für eine Rast und warmen Tee. Dach und Fenster könnten besser sein, um die Hütte vorm Verfall zu bewahren, trotzdem scheint sie von Jägern und Wanderern genutzt zu werden.

Auf dem Rückweg hatten wir zum Glück Rückenwind, so dass wir es gerade noch rechtzeitig zurück in die Zivilisation schafften, um Lebensmittel aufzustocken. Unsere Vorräte sahen nämlich bis gestern Vormittag ähnlich ärmlich aus, wie die paar Dosensuppen in der Trapperhütte.
+++
Jack London and Nicolas Vanier are probably the reasons, we're in the Yukon. Nico loves their books, adventures and the movies. You can imagine how excited he was, when he was told, "The last trapper" was filmed not far from us and the hut can still be found if you knew where it was – so here's our mission for our day off yesterday.

While in Rambotown Hope you had the whole movie tour in a tourist brochure – well I have to admit "First Blood" is slightly more famous than "The last trapper" - anyway, so here we just had an old map, a few hints and we borrowed a canoe, as we were told the cabin can best be found from the lakeshore – if so at all.
So we paddeled wind and waves against us about 2,5 hours along the lakeshore passing uncountable cedar trees and aspen trees until we found the aspen trees on the hillside that seemed to match the description. From here our exploration went on by foot through the canadian bush –no worries, we carried bearspray- until we indeed found the cabin of the last trapper.

It's set perfectly above the lake inbetween the mountains. Just outside the cabin there were a few little dog cabins and a fireplace. The interieur was quiet in good shape with nice details and a good spot for us to have a cup of tea. Roof and windows could be in better condition, still hunters or hikers seem to use the cabin.

On our way back we had the wind from behind and made it back to civilisation just in time to stock up groceries in Whitehorse, as our stores did look as poor as the few cans in the cabin.